 BLABBERMOUTH.NET-Approved Masterpiece: RAUNCHY's Entire New Album Available For Streaming
June 8, 2008
Danish modern metallers RAUNCHY are streaming their entire new masterpiece, "Wasteland Discotheque", on their MySpace page.
Due on June 16 in Denmark, June 30 in the rest of Europe and July 7 in the U.S. via Lifeforce Records, "Wasteland Discotheque" features the following track listing:
01. This Blackout is Your Apocalypse (intro)
02. Somewhere Along the Road
03. The Bash
04. Warriors
05. Straight to Hell
06. Welcome the Storm
07. Wasteland Discotheque
08. Somebody's Watching Me (ROCKWELL cover)
09. A Heavy Burden
10. To the Lighthouse
11. Showdown Recovery
12. The Comfort in Leaving
Vocalist Kasper Thomsen previously described the new material as "dirty, melodic, thrashy, epic, melancholic and... drum roll... heavy. We are experimenting a lot this time around, with vocals, arrangements and musical expression, but we're not gonna change radically don't worry! But as a wise man once said: there's no point in writing the same record twice, right?"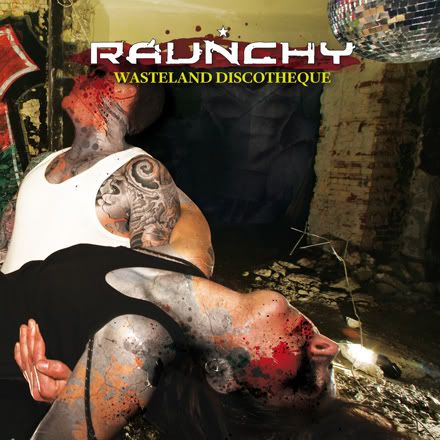 The band split with Nuclear Blast Records in January 2005 after releasing two albums through the label (2002's "Velvet Noise" and 2004's "Confusion Bay").
"Phantoms", the latest video from RAUNCHY, can be viewed below. The clip was filmed at the group's sold-out show on December 2, 2007 at Store Vega in Copenhagen Denmark.
"Phantoms" comes off RAUNCHY's last album, "Death Pop Romance", which was released in 2006 through Lifeforce Records.