ARKAEA/FEAR FACTORY Members To Guest On FULL METAL JACKIE's Radio Show
August 6, 2009
ARKAEA/FEAR FACTORY members Christian Olde Wolbers (guitar) and Raymond Herrera (drums) will be the featured guests on this weekend's (August 6-8) edition of Full Metal Jackie's nationally syndicated radio show.
To see a full list of stations carrying the program and when it airs, go to FullMetalJackieRadio.com.
ARKAEA recently filmed a video for the song "Gone Tomorrow" with Dale "Rage" Resteghini (HATEBREED, TRIVIUM, MUDVAYNE) and Dan Dobi (BLEEDING THROUGH, CANNIBAL CORPSE, WARBRINGER) at the helm. The clip is expected to make its online debut soon.
"Years In The Darkness", the debut album from ARKAEA sold 980 copies in the United States in its first week of release, according to Nielsen SoundScan. The CD landed at position No. 39 on the Top New Artist Albums (Heatseekers) chart, which lists the best-selling albums by new and developing artists, defined as those who have never appeared in the Top 100 of The Billboard 200.
"Years In The Darkness" was released in the U.S. on July 14 via E1 Music (formerly KOCH Records). The CD was produced by Christian Olde Wolbers and ARKAEA and mixed by legendary producer Terry Date, best known for his work with the DEFTONES, SLIPKNOT, WHITE ZOMBIE, SOUNDGARDEN and PANTERA. The album was mastered at Sterling Sound by Ted Jensen, who mastered FEAR FACTORY's gold-certified 1998 release "Obsolete".
Vocalist Jon Howard has been a part of the FEAR FACTORY family ever since Wolbers served as producer for THREAT SIGNAL's debut, "Under Reprisal". Given that connection, the chemistry was there the instant the band started jamming. Howard has managed to push himself as a singer with the help of the veteran musicians. "I always try to do new things and experiment with my voice, and this project has been challenging," said Howard. "It always takes a little time to get comfortable working with new people and a new style of music, but I got over that really fast with Christian and Raymond, and I feel very comfortable where we're going right now."
"Locust", the debut video from ARKAEA can be viewed below.
Commented Herrera: "'Locust' was our first pick for a music video and as the opening track for the album because it really sets the tempo of the album and is a strong track that shows a great introduction to what ARKAEA is all about. We knew that we needed to come out swinging and 'Locust' definitely offers that punch."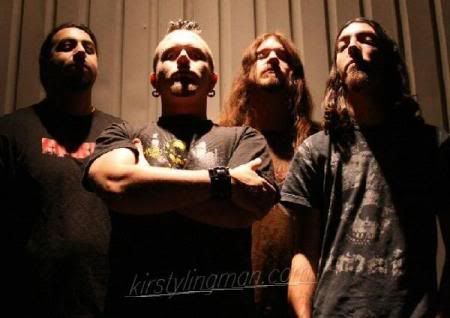 (Thanks: Andrew / The Space Lord)