MYSTIC PROPHECY Seeking New Drummer
February 25, 2010
German/Greek metal band MYSTIC PROPHECY has parted ways with temporary drummer Matt C., who played with the group during its recent tour with STRATOVARIUS. Because of "occupational and personal reasons," it's not possible for Matt to remain with the band permanently.
MYSTIC PROPHECY is seeking a drummer "who feels confident to play their material and is seriously interested in becoming their new member," according to a press release. Interested parties can contact the band at [email protected] or [email protected]
"Fireangel", the sixth album from the MYSTIC PROPHECY, entered the German Media Control chart at position No. 77. Released on May 22, 2009 via Massacre Records, the follow-up to 2007's "Satanic Curses" was recorded at Prophecy Studios and was mixed in Sweden under the direction of Fredrik Nordström (DIMMU BORGIR, ARCH ENEMY, IN FLAMES) and R.D. Liapakis (FIREWIND, CHASTAIN, ELDRITCH).
"Fireangel" track listing:
01. Across The Gates Of Hell
02. Demons Blood
03. We Kill You Die
04. Father Save Me
05. To The Devil I Pray
06. Fireangel
07. Fight Back The Light
08. Death Under Control
09. Revolution Evil
10. Gods Of War
11. Forever Betrayed
Watch a trailer for the CD below.
MYSTIC PROPHECY in 2008 announced the addition of DESCENDING/ex-NIGHTRAGE guitarist Constantine to the group's ranks.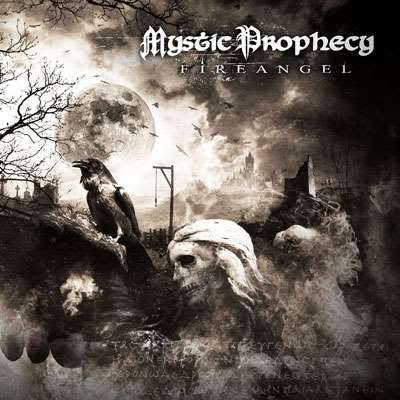 (Thanks: Metalzone.gr)